What if the person you desired most was the one person you were forbidden to love?


In a near future, in a world ruled by a totalitarian government, checking of the genetic code is mandatory for any type of possible relationship between man and woman. The investigator from Seattle William (Tim Robbins) travels to Shanghai to investigate the faking and stealing of special Visas called "papelles". The main suspect is Maria Gonzales (Samantha Morton), who works in the company Sphinx, but William falls in love for her and protects her. They have a passionate one night stand, and sooner they find that they are genetically incompatible to each other and they have violated the Code 46.

'Code 46' is the most beautiful film I've seen in quite some time. It's funny how something entirely new is produced when the properties of film noir and futuristic sci-fi are married. Like 'Until the End of the World,' 'Strange Days,' and 'Gattaca,' three films which 'Code 46' potently recalls, this is above all else a mood piece, wherein character and plot are secondary to the drifty, elegiac flow of the film.
The action is underplayed, and the performances have an earthy tone; Tim Robbins recalls William Hurt in 'Until the End of the World' and Bill Murray in 'Lost in Translation,' in that his perpetual jet lag has cultivated an easy, weary charm. The movie is set, one gathers, in the future (or an "alternative present," to paraphrase another reviewer). Like the best futuristic films, it's set on the same planet Earth, but the planet's simply been restructured; the old occupants have left and the new ones have moved in. No longer are there countries, only cities, only business destinations.
Pleasure is not a goal, but a side effect. The locations photographed are, as in 'Alphaville,' as in 'Sans Soleil,' not manipulated or artificial, but they are photographed in a new way. Contemporary cities look futuristic, commercial, busy, cold, with pools of dark glass and beads of light from skyscraper windows. For me, this kind of imagery is the among the most romantic and evocative. Cold, impersonal environments like these simultaneously forbid and necessitate human warmth. Intimacy becomes something to escape into.
Michael Winterbottom and his screen-writing partner Frank Cottrell Boyce have done great work before, and inevitably, a lot of viewers and critics are dismissing 'Code 46' as a number of things, including listless and convoluted, but I think that's symptomatic of approaching this film with the wrong expectations. Far beyond simply being a trivial footnote in what will hopefully be a career of formidable longevity, I think 'Code 46' is perhaps Winterbottom's best work yet, the movie I intuited Winterbottom had dormant in him. The movie has a sort of purging effect, like Wenders' 'Until the End of the World,' and as with that film, my immediate environment felt different to me, changed, upon exiting the theater.
Review by BornJaded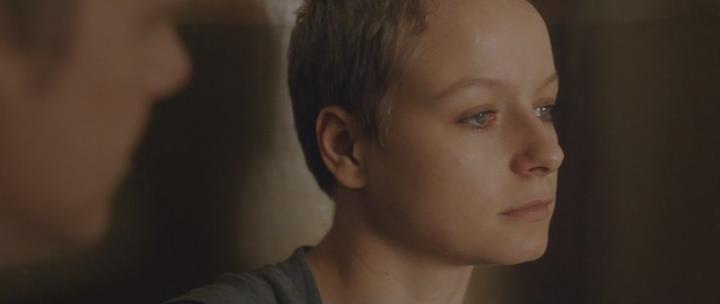 Trailer :
here
Torrent :
here
All subs:
here